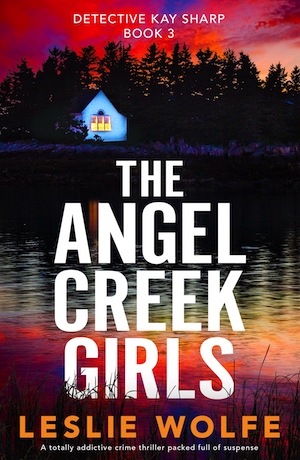 9 HOURS AGO: In a sleepy mountain town, widow Cheryl Coleman stares anxiously out of her kitchen window while a storm rages outside. When the knock comes, she glances back at her daughters before opening the door with trembling hands…
NOW: Detective Kay Sharp vows to get to the bottom of a heartbreaking murder that has rocked Mount Chester. A single mother has been brutally killed in front of her three daughters. The youngest, three-year-old Erin, is lying inches from the body, her pigtails loose, her face tear-stained. Eight-year-old Heather is discovered hiding under her bed. Sixteen-year-old Julie is nowhere to be found.
The Angel Creek Girls
by Leslie Wolfe
Think you know the meaning of gripping? Think again! Leslie Wolfe takes gripping to a whole new level.
Fans of Lisa Regan, Robert Dugoni and Kendra Elliot will be addicted to this twist-filled page-turner.