Welcome
Leslie Wolfe is a bestselling author whose novels break the mold of traditional thrillers. She creates unforgettable, brilliant, strong women heroes who deliver fast-paced, satisfying suspense, backed up by extensive background research in technology and psychology.
Leslie released the first novel, Executive, in October 2011. Since then, she has written many more, continuing to break down barriers of traditional thrillers. Her style of fast-paced suspense, backed up by extensive background research in technology and psychology, has made Leslie one of the most read authors in the genre.
Reminiscent of the television drama Criminal Minds, her series of books featuring the fierce and relentless FBI Agent Tess Winnett would be of great interest to readers of James Patterson, Melinda Leigh, and David Baldacci crime thrillers. Fans of Kendra Elliot and Robert Dugoni suspenseful mysteries would love the Las Vegas Crime series, featuring the tension-filled relationship between Baxter and Holt. Finally, her Alex Hoffmann series of political and espionage action adventure will enthrall readers of Tom Clancy, Brad Thor, and Lee Child.
Leslie enjoys engaging with readers every day and would love to hear from you. Become an insider: gain early access to previews of Leslie's new novels.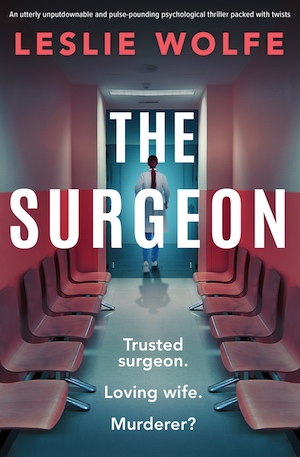 Trusted surgeon. Loving wife. Murderer?
Before my world came crashing down, I had it all. The successful career I dreamed of. The beautiful red-brick home where I could relax in front of the fire. The handsome, devoted husband whose blue eyes and charming smile always made me feel safe.
As I call time of death, my voice is steady. My colleagues stand hushed around me, their eyes on me, confused, concerned.
⭐

⭐

⭐

⭐

⭐

I just can't get enough!!

 I have found my 

new favorite author

. The last four books I've read have been by Leslie Wolfe. Her writing takes me on a journey like few other authors can. 

I feel the emotions

 of the characters and like I'm the one racing against time to catch the killer. 

I can't wait to start the next novel!